Posted on Tuesday, October 01, 2019 at 05:40PM by GenePattern Team
As many of you may have heard, and those of you who are registered GenomeSpace should have read in an email, the GenomeSpace servers are shutting down permanently on November 15, 2019.
The email sent to the GenomeSpace users list is as follows:
Dear GenomeSpace user,

The GenomeSpace servers are shutting down on November 15, 2019 due to expiration of its NHGRI funding. We would like to thank all GenomeSpace users for their support and for all the important science they have done on the platform over the last nine years.

GenomeSpace-enabled tools are separately funded and will continue to be available subject to their own lifecycles, but any connection to GenomeSpace or GenomeSpace-hosted files will cease with the termination of the servers. If you do not remember your login credentials for any individual tools that you rely on, you should use the 'forgot password' links on their websites to reset your login credentials.

NOTE: We are unable to archive any data you have in your GenomeSpace account. Therefore, if you wish to retain copies of such data you should transfer them to your own storage from GenomeSpace before the termination date. After that time they will be deleted from the GenomeSpace servers as part of the shutdown process. Data that you host on other platforms (Dropbox, S3, Google Drive) and have connected to your GenomeSpace account will not be affected.

If you have any questions, please contact the GenomeSpace team at gs-help@broadinstitute.org.

The GenomeSpace Team
Accordingly, we will be turning off the GenomeSpace integration with GenePattern which will have the following impacts:
Note that all of these instructions assume that you are using a server where GenomeSpace integration will have been turned off or removed as of Nov 15, 2019.
You will no longer be able to log into GenePattern via the GenomeSpace login button.
Before Nov 15

After Nov 15

If you manually linked your GenePattern and GenomeSpace accounts, you will still be able to login with your GenePattern credentials
If you are unable to login, it may be that you automatically created a GenePattern account associated with your GenomeSpace account, which means you will need to create a GenePattern password.

To do so, click the Forgot your password? link and follow the instructions (be sure to check your spam folder if it seems the email has not come through)
Once you've logged in with your generated password, you can change it to something memorable via My Settings in the profile menu in the upper right corner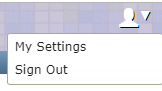 The GenomeSpace tab navbar menu item will no longer be available
Before Nov 15

After Nov 15
The GenomeSpace tab will no longer be available in the left-hand panel for accessing GenomeSpace files.
Before Nov 15

After Nov 15

If, after November 15, you still see the GenomeSpace login option, menu item or tab in the left-hand menu, it may be that you are on a server where the integration hasn't been turned off, or you may not have logged out since it was turned off. In either case, the links and buttons will not work, and the GeneomeSpace service will no longer be active.
For questions about how this impacts GenePattern, please contact us via our public forum - https://groups.google.com/forum/#!forum/genepattern-help
For questions about GenomeSpace or for the GenomeSpace team, please email gs-help@broadinstitute.org