GenePattern server coverage December 23 - January 2
Posted on Thursday, December 19, 2013 at 12:41PM by GenePattern Team
From December 21 to January 1, the GenePattern team will be unavailable due to the year-end closing of the Broad Institute. During this time, the GenePattern servers and repositories (including GParc) will remain up and fully functional. We will be monitoring this daily and, should anything happen to disrupt service, we will work to resolve any issues within 24 hrs. However, due to the holiday closing, please be aware that:
GenePattern staff will not be reachable by phone or responding to email. This includes our help system, Twitter, and Facebook.
Emails (including help tickets) and phone calls will be responded to as quickly as possible, once we return to the office on Jan 2, 2014.
If you have any questions, please feel free to contact us.
Happy Holidays from the GenePattern team!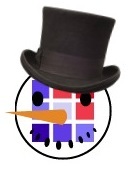 ---
Using GenePattern with Mac OS X 10.9 Mavericks
Posted on Monday, December 02, 2013 at 10:49AM by Barbara Hill Meyers
Since the release of Mac OS X 10.9 (Mavericks) on Oct 22, 2013, many of you may have already upgraded or are considering doing so, given the ease of access to this upgrade. Some of you have reported problems with GenePattern on this new OS and we have observed some in our own testing and exploring. This post aims to go over what we know and any work arounds or fixes we have so far . We will continue to provide updates for any incomplete or (unknowingly) inaccurate information.
There are 3 basic ways in which one may use GenePattern:
GenePattern Public Server - genepattern.broadinstitute.org (note that for the sake of this blog the information about this method will be assumed to pertain to any remote GenePattern server - ie not installed on your computer)
A previously installed* version of GenePattern on your computer. (* previous to upgrading to Mac OS X 10.9 Mavericks on the Mac where the server is installed)
A new installation of GenePattern , installed after upgrading to...
---
GenePattern and the latest Java 7 update (45)
Posted on Thursday, November 21, 2013 at 11:06AM by Barbara Hill Meyers
UPDATE MARCH 17, 2017 : Java applet visualizers no longer work in any browser. Please click here to read the blog post.
---
Since the release of Java 7 update 45 (Oct 15, 2013) there have been some reports of difficulties with Java and GenePattern visualizers.
Release notes from Oracle can be found here.
The most prominent change in this latest release (as pertains to most GenePattern users) is a warning message that will appear when you try to run any Java app which is from an "unknown" publisher and does not have a, now required, permissions attribute.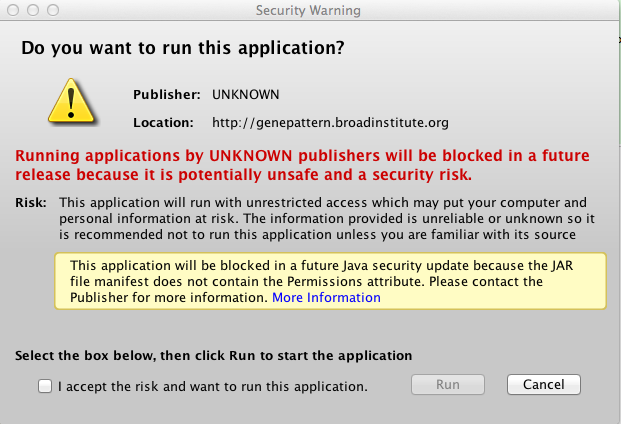 The GenePattern team is looking into how we can address this warning such that our software will not be blocked in a future release of Java. In the mean time. you can simply check the box next to "I accept the risk..." and then click run. This should allow you to use any visualizers as before. If you have any other issues after allowing the acception, please refer to this previous blog post about Java 7...
---