Cloud GenePattern Job purge interval changing to 14 days on Tuesday, October 1, 2019
Posted on Tuesday, September 24, 2019 at 10:20AM by Barbara Hill
Since officially switching to cloud.genepattern.org as our official production GenePattern server in January of this year, we have seen a steady increase in the number and size of jobs being run on the server, which is fantastic! We love that we have been able to provide a platform for so much great science, and we want to continue to do so. So, to limit our storage costs, and make sure that we can sustain this free service, we will be shortening our job purge interval from 30 days to 14 days as of Tuesday, October 1, 2019.
What this means is that any jobs older than 14 days as of Oct 1 will be purged from the server, and any jobs run on Oct 1 and beyond will be retained on the server for 14 days. This does not impact data you have uploaded to the Files tab.
If you have jobs you wish to retain for longer than 14 days, you have a few options:
Reload the job - this creates a new job with the same parameters and outputs which now has another 14-day lease...
---
How to configure your GenePattern server to connect to the new module repository URLs
Posted on Tuesday, July 30, 2019 at 03:52PM by Barbara Hill
As mentioned in our help forum, our module repositories have been brought back online.
Below are the steps required to get the 'Install from Repository' page to work on your own server ahead of the next release of GenePattern.
step 1: Replace your repo.yaml file with this file
https://github.com/genepattern/genepattern-server/blob/develop/resources/repo.yaml
*note that you will need to reload the job configuration for this to take effect
step 2: Edit genepattern.properties file
Set the *RepositoryURL(s) to use the new location. Make the following edits in your 'genepattern.properties' file. As usual, for best results, first shut down the server, then make the edits, then start the server.
 # GenePattern Production module repository url ModuleRepositoryURL=https://modulerepository.genepattern.org/gpModuleRepository/ DefaultModuleRepositoryURL=https://modulerepository.genepattern.org/gpModuleRepository/ ModuleRepositoryURLs=https://...
---
GenePattern WebApp Updated: Notebooks now available from the left-hand panel
Posted on Friday, May 17, 2019 at 05:20PM by GenePattern Team
GenePattern 3.9.11 build 216 is available for use on our Public GenePattern Server, via download, and as an Amazon Machine Image (AMI).
New in this release is the Notebook tab in the left-hand panel which provides access to the GenePattern Public Notebook Collection.
Selecting a notebook from this menu opens a copy of the notebook in your GenePattern notebook workspace, allowing you to run, edit, share, and save the notebook as you can with any of your notebooks.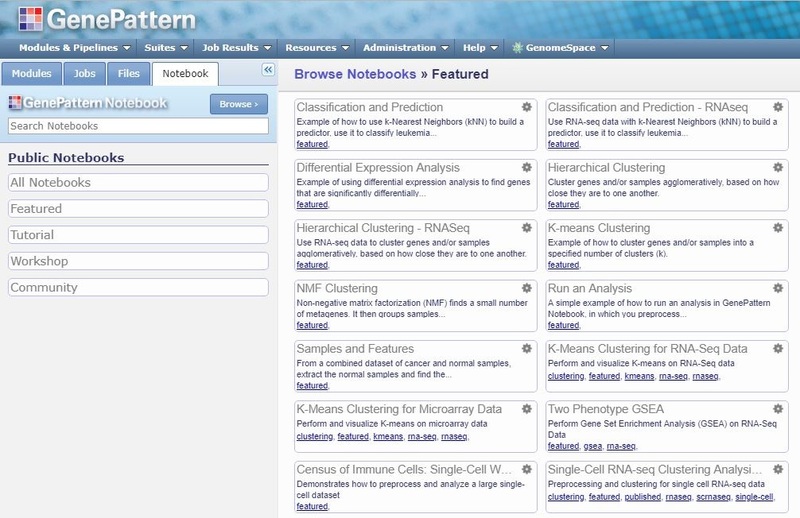 More details about features and improvements in this version of GenePattern can be found in the Release Notes.
Feel free to contact us with any questions or comments.
Sincerely,
The GenePattern Team
---