Using Dropbox in GenePattern via GenomeSpace
Posted on Tuesday, October 01, 2013 at 04:50PM by GenePattern Team
The folks here on the GenePattern and GenomeSpace teams thought it might be nice to point out a little "pro tip" for you Dropbox users out there.
Back in July GenomeSpace announced the ability to connect to your Dropbox files via GenomeSpace. Which means, you can also use your Dropbox files in GenePattern.
So, how do you go about setting this up.
Step 1: Create or log in to your GenomeSpace account
Step 2: Follow the direction in this GenomeSpace blog to set up our Dropbox/GenomeSpace connection
Step 3: Either log into GenePattern using GenomeSpace

or, if you are already logged into GenePattern, associate an existing GenePattern account with your GenomeSpace account:

Step 4: Use your GenomeSpace connected Dropbox files from the GenomeSpace tab, as you would any other file in GenePattern.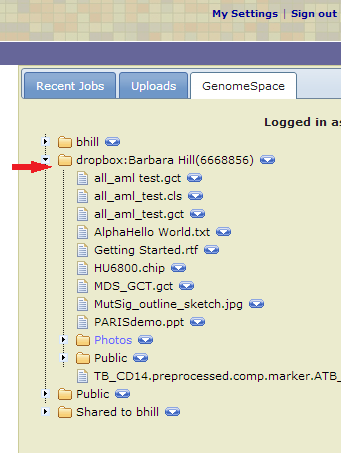 ---
The Outage: October 17-20, 2013
Posted on Tuesday, October 01, 2013 at 03:48PM by GenePattern Team
The Outage is a scheduled, major four-day disruption to most Broad IT services. In preparation for our move into a new building the Broad IT Services group will move all central IT hardware to a new facility. During the move, which will take place from 12:01 am* Thursday, October 17 to 11:59pm Sunday, October 20, almost all of Broad's IT services will be unavailable.
*Please note the change in start time
Broad employees and associates may access more details on our intranet.
External users may read more information on the Broad website.
Users of any Broad Institute hosted GenePattern server should expect:
---
GenePattern 3.7.0
Posted on Tuesday, October 01, 2013 at 02:21PM by GenePattern Team
GenePattern 3.7.0 has been released!
3.7.0 (build 12335) is available for use on our Public GenePattern Server, via download and as an Amazon Machine Image (AMI)
New features include:
Simplified Publication of modules from GenePattern to GPARC
Enhanced File Input
We also made some user requested fixes and enhancements:
Full details about 3.7.0, includeing hardware/softwared requirements and known issues can be found in our release notes.
Please let us know what you think!
Lastly, stay tuned for more information about the Broad's upcoming IT/Systems downtime, Oct 17-20,2013.
---